The ODENBERG Titan II optical sorter is a high-performance machine designed to grade/sort products based on quality and size. It is a low-cost ownership machine for the grower, packer and processor, built to last. Proven worldwide with hundreds of installations, the Titan II is the latest upgrade to the Titan, boosting power and features.
---
1
HIGH CAPACITY &
LOW MAINTENANCE
High capacity and low maintenance are guaranteed by a simple belt feed system. This keeps installation and running costs low and reduces the
risk of stoppages.
2
QUALITY CONTROL
& FEEDBACK
Quality control and
feedback are secured by
the intuitive touch screen.
Dashboard information on sort and line performance gives a highly detailed view of efficiency with data/
rends on flow, grades/reject rate, etc.
3
SIMPLE CONTROLS
& FEEDBACK
Simple controls and
feedback are provided by
the robust touch screen.
This makes it easy to call up
set sorting criteria and to
adjust the parameters to get
the result you need.
4
CONSISTENT LONG
LIFE ACCURACY
Consistent long life
accuracy is guaranteed
with the strong rugged
construction with tough
and robust electronics and
rejector. The 'off ' belt view
guarantees a clear view and
low maintenance.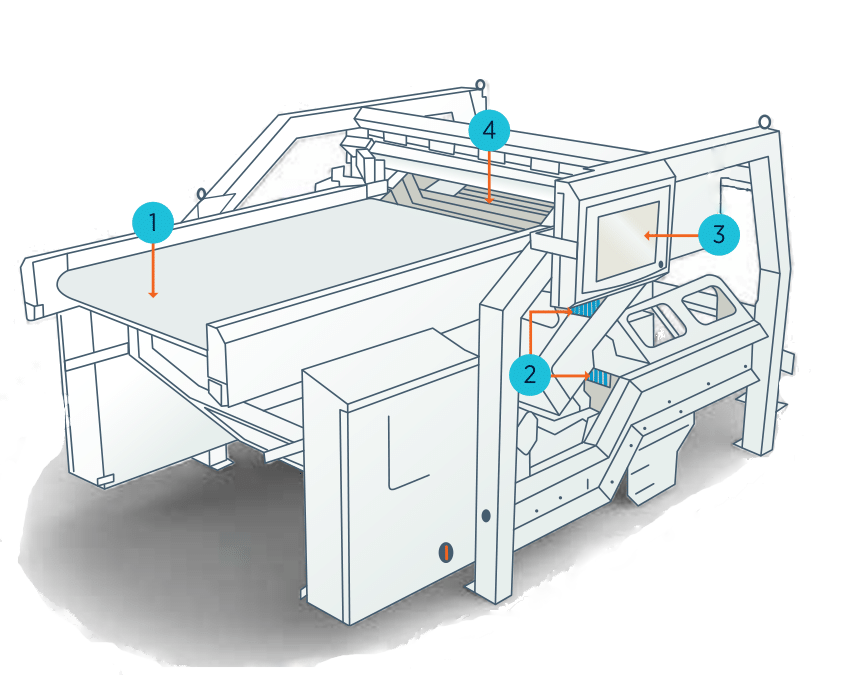 ---
DIMENSIONS AND SPECIFICATIONS
---
Dimensions
Utilities
Capacity
Max Capacity (kg/hr)
2.500 – 10,000
Dimensions
Utilities
Capacity
Max Capacity (kg/hr)
5 – 17,000
Dimensions
Utilities
Capacity
Max Capacity (kg/hr)
8 – 30,000
Dimensions
Utilities
Capacity
Max Capacity (kg/hr)
12 – 45,000