The ODENBERG Halo 2000 is the latest advancement in sensor-based optical sorters. Used for a high performance sort/grade based on quality, size and for food safety. The ODENBERG Halo combines intelligence with advanced control to provide flexibility and accuracy in a reliable, long-lasting, and compact sorter.
---
1
HIGH CAPACITY &
LOW MAINTENANCE
High capacity and low maintenance are guaranteed by a simple belt feed system. This keeps installation and running costs low and reduces the
risk of stoppages.
2
FLEXIBILITY & GENTLE HANDLING
Flexibility and gentle handling are given by design. Accept product pass through the sorter while intelligent low wear ejectors manage additional grades
3
QUALITY CONTROL
& FEEDBACK
Quality control and feedback are secured by the intuitive touch screen. Dashboard information on sort and line performance gives a highly detailed view of efficiency with data/ rends on flow, grades/reject rate, etc.
4
CONSISTENT LONG
LIFE ACCURACY
Consistent long life accuracy even on subtle color defects is provided by LED sensor technology. The 'offbelt' view guarantees a clear view and low maintenance.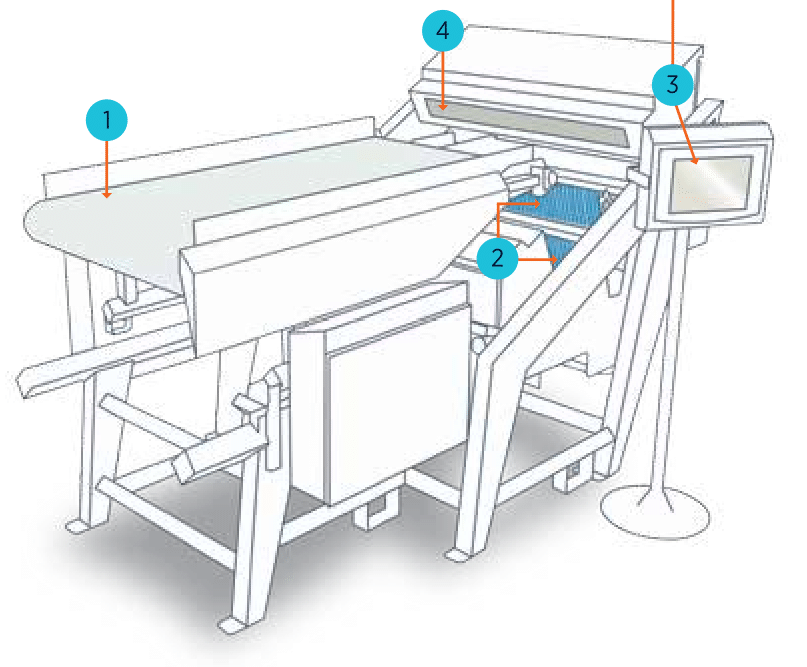 ---
DIMENSIONS AND SPECIFICATIONS
---
Dimensions
Infeed Elevation
2000mm
(80″)
Utilities